By Dennis Agbo
Mr. Mgbemena Orjiako, the Airport Manager Akanu Ibiam International airport Enugu spoke on the present challenges of the airport, stating that very soon it will take the shine out of other international airports in Nigeria. Excerpts: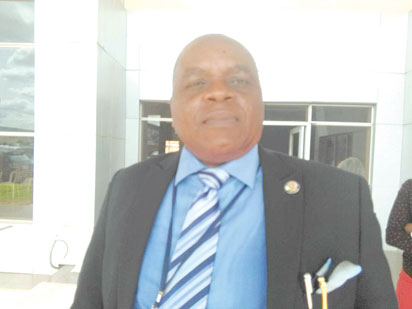 How has the airport management been able to tackle issues of corruption?
One of the ways was by adhering to the ease of doing business order issued by the federal government not quite long ago. We now smooth passage of the passengers out of the airport. Since November 2017 we've witnessed an upsurge of movement in and out of Enugu and its rather surprising because by this time one should be expecting a down turn after the Christmas but instead it has been on the increase.
The Ethiopian airline now brings an aircraft that carry 300 passengers at a time, three times a week, so if we hadn't started practicing avoidance of all corrupt practices and other things that were scaring passengers away or hampering movement, people won't actually be interested here, they would either go to Lagos or any other airport. But if you come to the airport every Tuesday, Thursday and Saturday to watch for yourself, you will see there is smooth flow of movement. Then all the agencies were united in one accord to ensure that we do the right things because if we do the right things, passengers will come, the economy will grow and it will affect everybody positively.
What are you doing to attract more international airlines since it's only one that flies Enugu presently?
We will attract them because we are setting facilities critical to the airport that need to be put in place to attract them. For instance water supply to the airport is not adequate, we actually need an independent water supply system so as to ensure that our fire fighting vehicles get quickly replenished if we have fire incidence. Information is key and everybody knows what we don't have yet and that's why more airlines are not coming. As soon as we get that one done, I am sure they will come. Secondly the terminal building we have at the moment is being managed for international and domestic flights and it's not sufficient. The new international terminal building will be completed in the next 18 months and there is also provision for at least three international airlines to be processed at a time. As we speak now, if I have three international airlines to process at the same time it will be chaotic because the halls are not big enough to handle that. So it's a blessing in disguise they are not coming yet but if they do come we hope to space them out but the major constraint is not having adequate water supply for fire fighting.
Why have you not been able to fly at nights in the airport?
We don't have approach lights at the two ends of the runway at the moment because there are issues of compensation of acquired land. Before now the runway was just 2.4 kilometers, then we acquired 600 meters to make it 3 kilometers in length as at 2010 but there are issues with compensation. The communities from where the land was acquired believe they have not been compensated, so, they insist they must be compensated. So the contractor that was to do the air field lighting, particularly the approach lights at the ends was driven away by members of the community. So, the contractor could not put on those lights and without those lights, we cannot operate more than 12 hours because we need those lights for landing at nights. So that is critical to us. We are however working hard to surmount that challenge, we have met the state governor who is already looking into the compensation issue because this administration inherited it.
Why was Oye-Emene local market said to be a hindrance to flights landing at the airport
It is more of a security challenge because it is too close to the approach paths of the runway, it's right on the approach path. Each time an aircraft is landing you can almost physically touch the underbelly of the aircraft at the market and in these days of terrorism and so on, you may anticipate that if somebody is really crazy enough, the person may attempt shooting down an aircraft from that area. And then, they have an abattoir there where they kill animals which attracts birds of prey and birds are dangerous to aircraft engines on takeoff and on landing. Bird that come there sometimes hit aircraft, or enter aircraft engines and cause damage and that can cause an accident. So the market essentially needs to be relocated for safety and security reasons.
Is anything being done in that regard?
Yes, the governor himself equally promised to do that and when the Minister of State for Aviation visited in the first week of March, there was an extensive discussion with Governor Ifeanyi Ugwuanyi who promised going into action. In fact, within 24 hours he had actually sent some commissioners to inspect the runway ends and some structures springing up at the Abakpa-Nike end were immediately demolished so as not to cause obstruction to the light.
Why are the air conditioners not working at the terminal building?We are working hard on that one now. The present terminal building is being managed for both the international and domestic operations, the problem with the air conditioners was that they were not designed to work the way they are working now and they had compressor issues but we are working to get them replaced now. We equally noticed we had poor rated cable that failed because they got burnt and we are changing them gradually. In two weeks time we will get through that.